| | |
| --- | --- |
| 날짜 | 2022-04-15 11:00 |
| 일시 | April 15(Fri.) 11:00 |
| 장소 | Online seminar |
| 연사 | Prof.Jaekwang Lee (Department of Physics, Pusan National University) |
-
Prof.
Jaekwang Lee
(Department of Physics, Pusan National University)
-
First-principles studies of polar oxides and their applications
-
For the last decades, the polar oxide surfaces/interfaces have attracted considerable attention due to their unique electronic and structural reconstructions induced by the polar discontinuity. In order to avoid this polar catastrophe, the screening from internal/external charge sources in the polar oxide surfaces/interfaces give rise to many novel phenomena, such as coexistence of polar distortion and metallicity, vicinal surface reconstruction, and metallicity at interphase boundaries. Here, combining density functional theory calculations, molecular dynamic simulations, and homemade code, I will discuss the novel polarity-induced quantum phenomena in polar LaAlO3 surface and polar HfO2-based ferroelectric tunnel junction.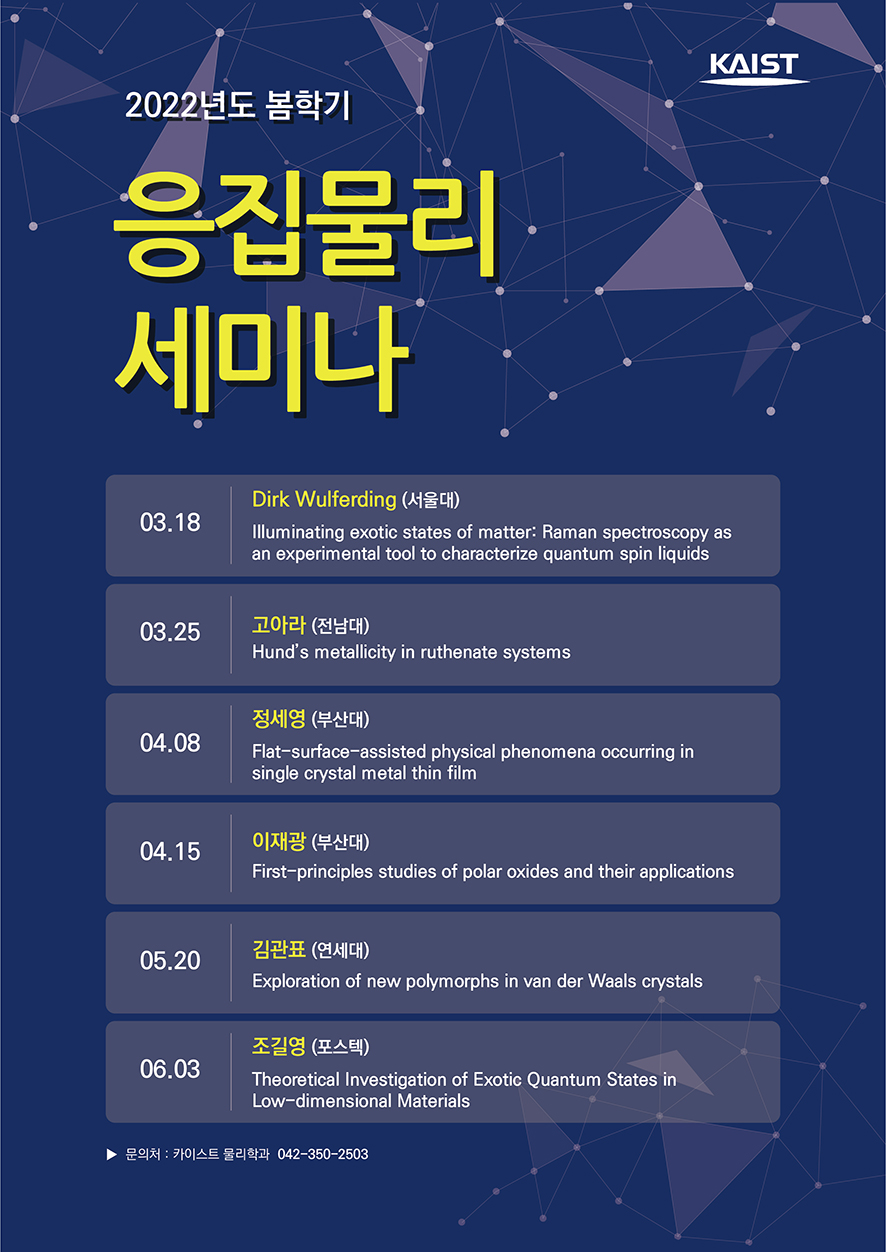 | 번호 | 날짜 | 장소 | 제목 |
| --- | --- | --- | --- |
| 407 | 2019-01-07 15:00 | E6-2. 2st fl. #2501 | Many-Body Invariants for Multipoles in Higher-Order Topological Insulators |
| 406 | 2018-06-18 10:00 | E6-2. 2nd fl. #2502 | Rydberg electromagnetically induced transparency and microwave-to-optical conversion using Rydberg atoms |
| 405 | 2015-10-16 16:00 | E6-2. 2nd fl. #2501 | Fluctuations of entropy production in partially masked electric circuits |
| 404 | 2019-01-09 16:00 | E6-2. 2nd fl. #2501 | Molecular Mott state in the deficient spinel GaV4S8 |
| 403 | 2015-09-14 14:00 | E6-2. 2nd fl. #2501 | Ultrafast X-ray Studies on Dynamics Matter in Extreme Conditions |
| 402 | 2016-04-01 14:30 | E6-2. 1st fl. #1501 | Interference of single charged particles without a loop and dynamic nonlocality |
| 401 | 2016-04-01 16:15 | E6-2. 1st fl. #1501 | Cotunneling drag effect in Coulomb-coupled quantum dots |
| 400 | 2016-03-11 16:00 | E6-2. 1st fl. #1501 | Jan. Switching handedness of of chiral solitons in Z4 topological insulators |
| 399 | 2016-04-08 13:30 | E6-2. 1st fl. #1501 | Theoretical Overview of Iron-based superconductors and its future |
| 398 | 2016-03-11 13:30 | E6-2. 1st fl. #1501 | Topological phases of matter in nonequilibrium: Topology of the Wannier-Stark ladder |
| 397 | 2022-05-25 16:00 | E6-2. 1st fl. #1323 / Zoom | Uncovering New Lampposts for Dark Matter: Continuum or Conformal |
| 396 | 2022-11-18 14:30 | E6-2. 1st fl. #1323 & Zoom | Kondo cloud condensation in a highly-doped semiconductor metal |
| 395 | 2022-09-30 14:30 | E6-2. 1st fl. #1323 & Zoom | Putting a spin on the Josephson effect |
| 394 | 2022-09-30 16:00 | E6-2. 1st fl. #1323 & Zoom | Spin-orbit torque-based spintronic devices |
| 393 | 2022-11-18 16:00 | E6-2. 1st fl. #1323 & Zoom | Qubits, new experimental tools for physics |
| 392 | 2022-11-09 16:00 | E6-2. 1st fl. #1323 | Radio Astronomy, Radio Interferometry, and Multi-wavelength Studies on Relativistic Jets |
| 391 | 2022-11-10 16:00 | E6-2. 1st fl. #1323 | Probing the Origin of Cosmic Infrared Background and Future Prospects with SPHEREx |
| 390 | 2022-06-10 16:00 | E6-2. 1st fl. #1323 | Fe5GeTe2의 나선형 자성특성과 자기저항의 전류밀도 의존성 연구 |
| 389 | 2022-06-10 14:30 | E6-2. 1st fl. #1323 | Combinatorial strategy for condensed matter physics: study on rare earth hexaborides thin films |
| 388 | 2018-05-11 16:00 | E6-2. 1st fl. #1323 | 암페어 단위 재정의와 단전자 펌프 소자 개발 |