| | |
| --- | --- |
| 날짜 | 2020-12-02 10:00 |
| 일시 | December 2(Wed), 10:00AM |
| 장소 | Zoom |
| 연사 | Prof. Rakshya Katiwada (Illinois Institute of Technology) |
Topic: Recent progress in Axion Dark Matter eXperiment (ADMX) technology
Speaker: Prof. Rakshya Katiwada (Illinois Institute of Technology)
Date: December 2, 2020 (Wednesday)
Time: 10:00 AM
Venue: Zoom Video Conference Seminar (Click the link below)
https://kaist.zoom.us/j/6108068959?pwd=TXV2OGlWdVRtcGhmNXVTRWlla2pHQT09
(Meeting ID: 610 806 8959; Passcode: 131015)
Abstract:
QCD axion, a weakly interacting, sub-eV particle is a compelling cold dark matter candidate and was originally
postulated as a solution to the strong CP problem. This talk will give an overview of the most sensitive experiment
to probe the QCD axion to date, Axion Dark Matter eXperiment (ADMX). In particular, ADMX has demonstrated
recent success in reaching the so-called DFSZ sensitivity covering axion mass ranges from 2.66 to 3.3 μeV.
These results have crucial implications for the future direction of on-going dark matter searches. A summary
highlighting the current ADMX detector technology along with the future direction of the experiment will be
discussed.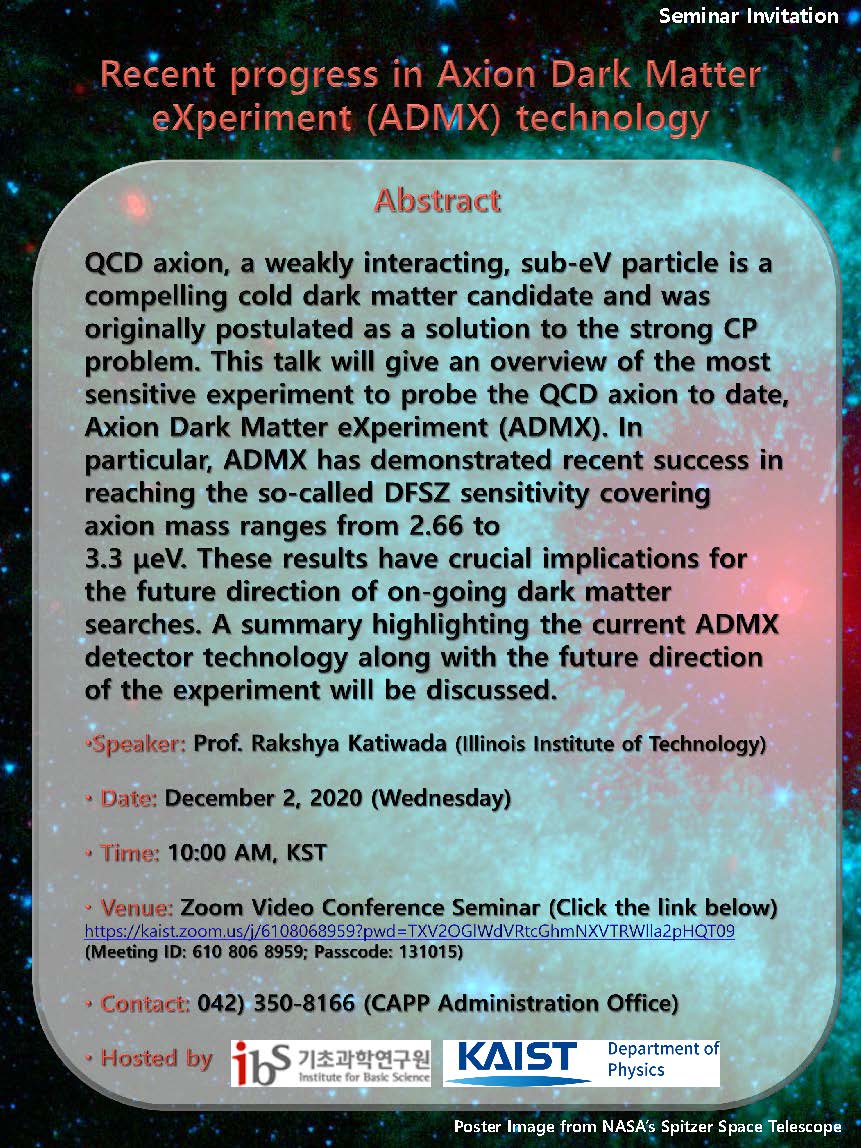 | 번호 | 날짜 | 장소 | 제목 |
| --- | --- | --- | --- |
| 47 | 2018-07-26 14:00 | Room 5318, KAIST Natural Sciences Lecture Hall(E6). | Inflation in String Theory and Backreaction |
| 46 | 2018-07-26 14:00 | Room 5318, KAIST Natural Sciences Lecture Hall(E6). | Inflation in String Theory and Backreaction |
| 45 | 2018-07-13 14:00 | Room 5318, KAIST Natural Sciences Lecture Hall(E6). | Loop Induced Single Top Partner Production and Decay at the LHC |
| 44 | 2019-09-18 16:00 | Seminar Room #1323 | Fall 2019: Physics Seminar Serises |
| 43 | 2016-11-01 14:30 | Seminar Room #1323(E6-2) | Search for dark sector particles in the B-factory experiments |
| 42 | 2016-06-14 16:00 | Seminar Room (#2502, 2nd fl.) | Photonic quantum network based on multimode squeezed vacuums and single-photon subtraction |
| 41 | 2018-07-02 15:00 | Seminar Room (C303), Creation Hall (3F), KAIST Munji Campus | High Precision Magnetic Field Measurement for the Muon g-2 Experiment |
| 40 | 2017-12-14 15:00 | Seminar Room (C303), Creation Hall (3F), KAIST Munji Campus | Exploring the Universe via GWs in the era of multi-messenger astronomy |
| 39 | 2017-03-21 16:00 | Seminar Room 1323 | Spring 2017: Physics Seminar Serises |
| 38 | 2017-03-06 16:00 | Seminar Room 1501 | Spring 2017: Physics Colloquium |
| 37 | 2019-09-02 16:00 | Seminar Room 1501 | Fall 2019: Physics Colloquium |
| 36 | 2017-04-27 16:00 | Seminar Room(#1323, E6-2) | 반도체 양자점을 이용한 단광자 광원 |
| 35 | 2023-11-29 10:00 | Zoom | [High Energy Theory Seminar] Averaged null energy and the renormalization group |
| 34 | 2023-05-17 16:30 | Zoom | Detecting Hidden Photon Dark Matter via the Excitation of Qubits |
| 33 | 2023-04-13 11:00 | Zoom | [High Energy Theory Seminar]Noninvertible Gauss Law and Axions |
| 32 | 2022-11-04 16:30 | Zoom | 초세대 협업연구실 Quantum- & Nano-Photonics_Multifunctional neural probes with integrated nanophotonics |
| 31 | 2021-02-02 14:30 | Zoom | Quantum- & Nano-Photonics 세미나(Integrated Nanophotonics with Metamaterials, Microcomb, and Atomic Systems) |
| 30 | 2020-12-10 13:55 | Zoom | Consistency of Boltzmann equation and light dark matter from inflaton decay |
| 29 | 2020-09-11 14:00 | zoom | SRC Seminar |
| » | 2020-12-02 10:00 | Zoom | Recent progress in Axion Dark Matter eXperiment (ADMX) technology |